Your Child's Journey Begins Here
Our 20 Catholic schools form students who will pursue excellence, grow in faith, and transform the world. We welcome students in preschool through the 12th grade, from all faith backgrounds. More than 8,000 students are enrolled in our accredited schools, yet every child is valued and given individualized attention, with teachers and parents working closely together. Tuition assistance is available to make Catholic education accessible to all. Explore why our Catholic schools are right for you and your child.
Our schools are dedicated to providing an exceptional education rooted in the Catholic faith. Research shows children who attend Catholic Schools are more likely than their counterparts in other schools to graduate, go on to college, and secure higher paying jobs. Students also score higher on advanced achievement tests in reading and math.   
Every child – whatever their faith background, socioeconomic status, ethnicity or learning ability – is a beloved child of God and we welcome them with open arms at our schools.
Available tuition assistance
Athletic opportunities in grades K-12
State-of-the-art STEM labs & Makerspaces
Special learning options for grades K-12
College scholarships earned annually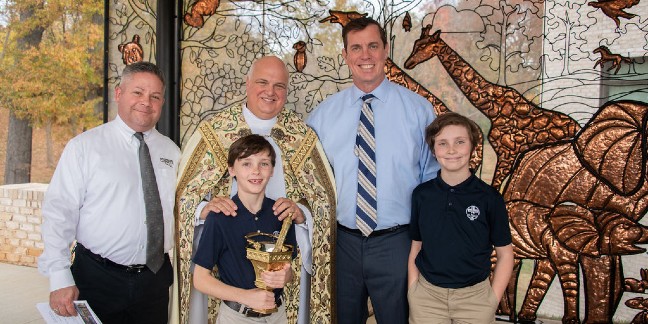 Students, faculty and staff of St. Pius X School gathered with Monsignor Anthony Marcaccio Nov. 17 as he dedicated a new "Peaceable Kingdom" sculpture at the Greensboro school. The work of art by parishioner Jim Gallucci, an internationally known artist, is a large steel and bronze piece featuring a variety of animals.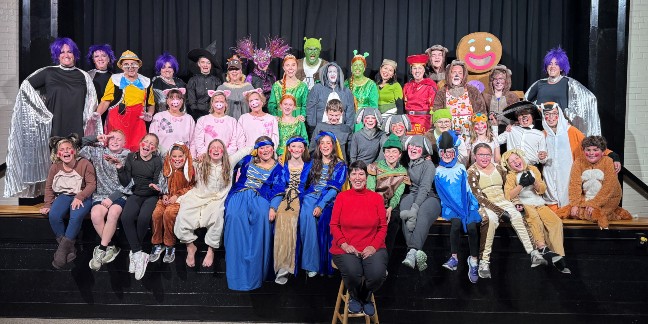 The St. Pius X Catholic School community rallied together this fall to put on a successful production of "Shrek Jr.," performing two sold-out shows Nov. 3 and 5. The cast featured faculty, staff and students.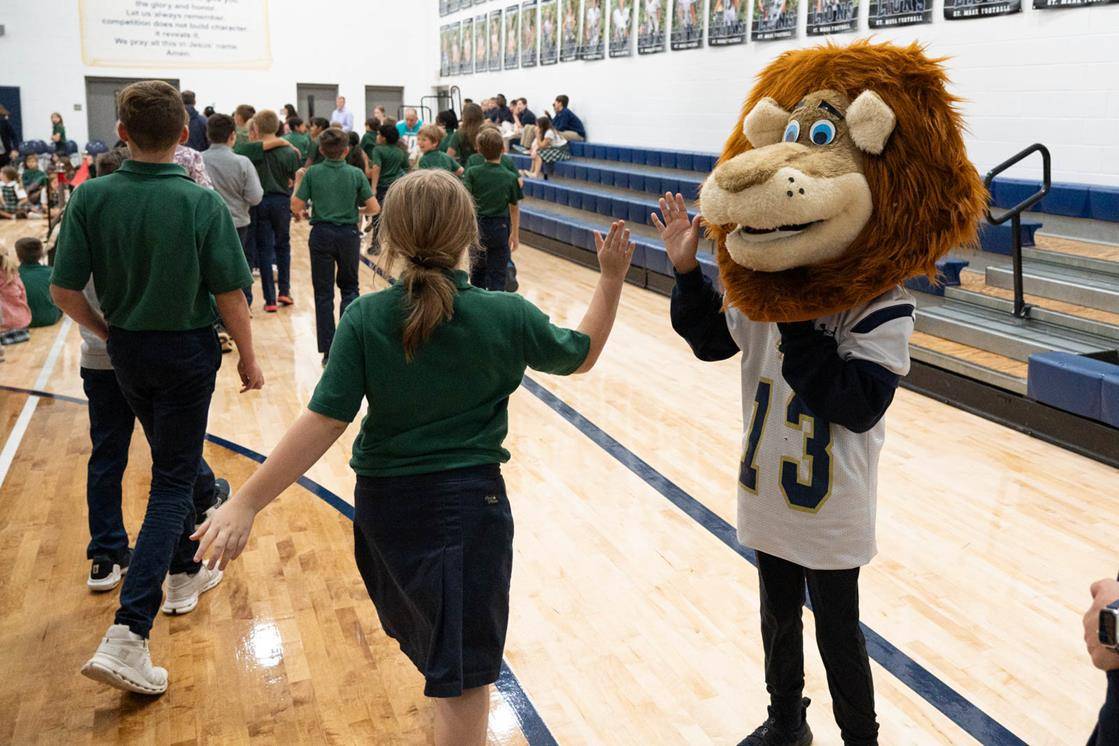 nbsp;
St. Mark Catholic School's students and staff gathered in the school's gym to celebrate the newly painted gymnasium floor with a ribbon cutting and blessing from Father Chinonso A. Nnebe-Agumadu on Oct. 11. Along with a newly painted floor, new championship banners were hung along the walls. After the blessing, the students turned up the noise – celebrating the members of their sports and cheer teams with a pep rally.
— Catholic News Herald. Photos by Troy Hull.
"St. John Paul II said, 'Parents must set themselves very definite priorities, such as the determination to have schools in which their children's faith will be respected, fostered and enriched; schools in which their children learn the value and beauty of the Church's teaching." Aligning to these priorities was paramount in the search for our children's education options. We can unequivocally say we have found these characteristics at St. Mark. St. Mark is a warm and welcoming community that puts the Church's teaching at the forefront and empathizes both academic and spiritual growth. We couldn't be happier!"
"Our family chose Charlotte Catholic High School for our son because of the strong school community. CCHS has helped our son develop a sense of belonging by focusing on faith, academics and fellowship. He has thrived in the classroom and in sports through the support of family, friends, coaches and teachers."
"Attending Canongate was the best decision we made for our daughter. Canongate's focus on developing the whole person within a classical curriculum – incorporating a strong mix of experiential learning opportunities – has provided the deepest, most well-rounded education we could have hoped for. Its small class size, affordability and excellent art, music and theater programs, coupled with a strong sense of community, was very attractive to us. I know our daughter is well prepared to live a fruitful life full of passion and purpose."